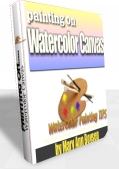 The first e-book I wrote is Painting on Watercolor Canvas. This is an exciting surface created by Fredrix Canvas/Tara Materials, and easy for the beginner because it allows easy corrections to the very end of the painting process. It allows you to paint on a canvas panel or a stretched canvas. The latter should be a depth of 1.5" so that you can paint around the edges, creating a "gallery wrap". This requires no framing at all. After the painting is complete and dry, an acrylic spray or watercolor varnish spray can be used to seal the surface. In addition to that you can optionally use an acrylic gel to add texture to the painting, thereby protecting the surface even more.
I discovered the special canvas and was quite taken with the look of the finished product, as I could paint "aqueously" or heavy (which gives the work more of an acrylic look). It is VERY forgiving, and changes can be made easily during the painting process. My beginner students love it! It also has the capability of being sealed with a UV spray and framed without glass.
To order this for your computer please click here.