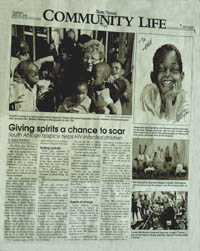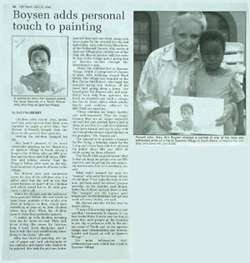 These are beautifully written articles about Sparrow Village and the history of the AIDS problem in South Africa. Click on each on to get a larger, readable version.
While in South Africa, and working with the children of Sparrow Village, I completed approximately 62 portraits (I prefer to call them "character studies") of the children, adults in the hospice, and the nursing staff.
These precious children don't deserve the cards they have been dealt, living HIV positive and some with AIDS. Now that they receive medications regularly, they have a chance to live relatively normal lives and to be worthy contributors to society.
It is my desire to teach painting to those children who are artistically talented so that they will have something positive to go forth in the world, become responsible citizens, and make a difference in their lives and others. Needless to say, I left my heart in South Africa.
From the little portraits of the children I have developed a print that I donated to Sparrow so they could use it for prints to sell. When I returned this year (2007) I was overwhelmed to see it printed on the back of their bus, that was donated to them by several organizations in South Africa. They are also using it on their business cards, annual report, and fund raising promotions. I am so happy that it has been helpful to them.
In 2007, I made a plea to artists across the country for art supplies that I could take to them. The response was so great, that I couldn't possibly take all the supplies, and the cost of postage is so high, that it wasn't going to be cost effective. So I packed one bag to the limit with a balance of paper, brushes, paint, palettes, beads, and all sorts of things that I felt they would enjoy using. And the rest was donated to a church school.
In addition to the art supplies, I received quite a bit of money with which to purchase supplies at their local art supply store. I took two of the boys to help shop for art supplies. We practically bought the place! There was still quite a bit of money left over, so I hired a local college art student to teach them in a weekly class. We will be keeping in touch by email so that I can watch their progress through photos she will send.
These children love to be busy, and art is one of their main interests. Of course, like other children in the world, they have discovered games played on the TV and the computer, and we allow them to come to the volunteer lodge and play with them in small groups. We are trying to give them as much of a normal life as possible. We even have "sleep overs"!
The children bake cakes for birthdays, and practice reading their English when reading the instructions. Every thing that we have them do is a learning experience for their future. They are LIVING! and will have a future.
Below are just some of the little studies that I painted and gave to the children and nurses. You will see some of these images in the print above.