An E-book by Mary Ann Boysen

In the 10 chapters of the Painting Flowers in Watercolor Ebook, there are step-by-step demonstrations of painting flowers. From white flowers to colorful flowers, I show how to create flowers with backgrounds. I focus on the benefits of negative painting in the backgrounds to create depth.

I can remember when I first began to paint that my teacher said that backgrounds were very important, and that I should begin with an interesting background. I had no idea what she was talking about because I didn't know what kind of background I should paint. So I stumbled through my paintings.
In this book, I show you how to create an "underpainting" in watercolor that leads you into your subject and creates an underlying glow to the finished product.

This is a useful technique in all paintings, but especially in florals.

You will notice in the demonstrations that I have used different brushes. Each brush has multiple uses, but some really do deliver special effects, and I don't use the "tricky" brushes like fan brushes and the like that you see on television. They only deliver the same effect over and over and your paintings look amateurish. With the brushes I use, you learn to become a real artist!

One chapter deals with painting without drawing in a vignette without a background. It is another free and easy way to make your floral paintings free-flowing and yet as detailed as you wish them to be. Backgrounds can also be added to paintings like this, but not necessarily if they are designed properly.

I am sure you will find this book to be informative and helpful in your painting process. Click here to begin your journey in florals with the Painting Flowers in Watercolor Ebook
Paint Flowers in Watercolor Ebook
You can also see the 15 videos of mine at: www.youtube.com/user/maboysen
Return to Watercolor Techniques
Return to Watercolor Painting Tips Home
---
---
My E-Books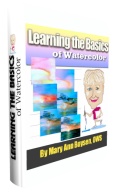 Learning the Basics of Watercolor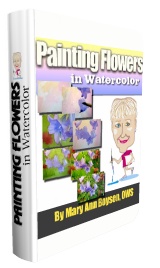 Painting Flowers in Watercolor